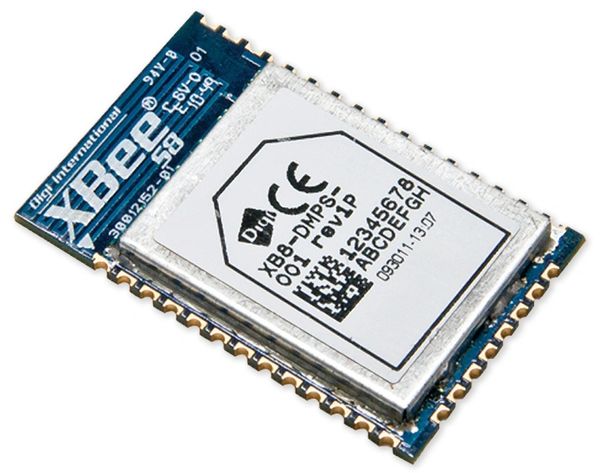 XBee S8
XBee and XBee 865/868 Low Power SMT embedded RF modules provide wireless connectivity to end-point devices in mesh networks. Utilizing the XBee-PRO Feature Set, these modules are inter operable with other devices, including devices from other vendors. With the XBee, users can have their network up-and-running in a matter of minutes without configuration or additional development. The XBee/XBee 865/868 modules are not compatible with all XBee products.
ORDER CODE: RDL781
Features:
*

Indoor/Urban Range : up to 370 ft (112 m) w/2.1 dBi antenna, up to 46 ft (14 m) w/embedded antenna

*

Outdoor RF line-of-sight Range : up to 5.2 miles (8.4 km) w/2.1dB dipole antenna, up to 0.4 mi (640 m) w/ embedded antenna.

Transmit Power Output: 12 dBm (16 mW

RF Data Rate (High) : 80 kbps

RF Data Rate (Low : 10 kbps

Serial Interface Data Rate (software selectable) : 9600-230400 baud

Supply Voltage: 2.7 to 3.6 VDC

Operating Frequency Band: 863 to 870 MHz

Operating Temperature: -40º to 85º C (industrial)

Antenna Options: Pad on module edge, U. FL RF connector, embedded antenna

Digital I/O: 13 I/O lines, 5 dedicated to SPI that can be used as digital output

ADC: 6 10-bit analog inputs.
* To determine your range, perform a range test under your operating conditions.