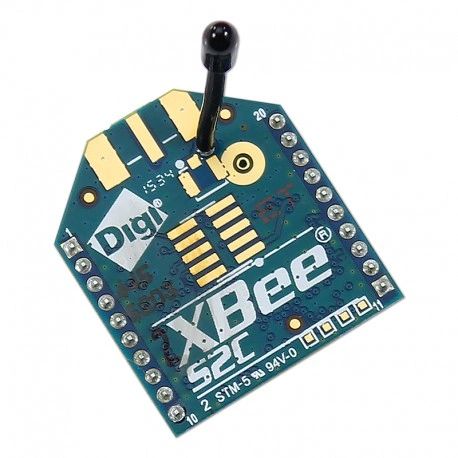 XBee S2C
Digi XBee DigiMesh S2C 2.4 embedded RF modules provide wireless connectivity to electronic devices using a globally deployable 2.4 GHz transceiver. These modules use the DigiMesh networking protocol. This innovative, peer-to- peer mesh network offers users added network stability through self-healing, dense network operation, extending the operational life of battery dependent networks.
ORDER CODE: RDL779


Features:
SERIAL DATA INTERFACE: UART, SPI

DATA RAT E:RF 250 Kbps, Serial up to 1 Mbps

CONFIGURATION METHOD: API or AT commands, local or over-the-air (OTA)

FREQUENCY BAND: ISM 2.4 GHz

INDOOR/URBAN RANGE: 200 ft (60 m)


OUTDOOR/RF LINE-OF-SIGHT RANGE: 4000 ft (1200 m)

FORM FACTOR: Through-Hole, Surface Mount

HARDWARE: S2C

ADC INPUTS: (4) 10-bit ADC inputs

DIGITAL I/O: 15

ANTENNA OPTIONS: Through-Hole: PCB Antenna, U.FL Connector, RPSMA Connector, or Integrated Wire; SMT: RF Pad, PCB Antenna, or U.FL Connector.

OPERATING TEMPERATURE: -40º C to +85º C.


SUPPLY VOLTAGE: 2.1 to 3.6V.