WiFi Dimmer SSR 230V 8A-ESP8266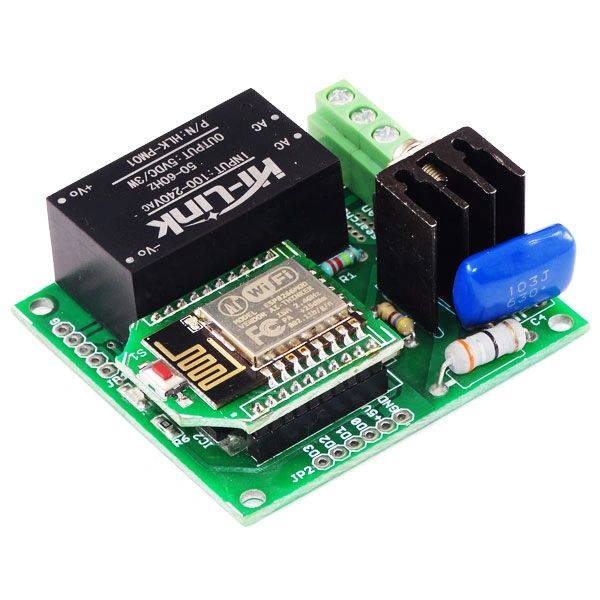 WiFi Dimmer SSR 230V 8A-ESP8266
The WiFi SSR switch ON / OFF and Dimming can be controlled from remotely using android app or supporting wifi enabled devices .This switch can be used control light , FAN, power socket , Triac dimming enabled LED's and any other remote ON / OFF or dimming application.
ORDER CODE: RDL621
Features:
On/Off and dimming control.

Snubber circuit enable.

Accurate firing angle control and smooth dimming.

Operating Voltage 5V DC.

Isolated power section from the input.

0-100% dimming.

WiFi Enabled.

Inbuilt Power supply.

Typical Power handling upto 1800Watts.

Maximum power handling 2760Watts

*

.

High quality PCB FR4 Grade with FPT Certified.
*

By changing the 12A withstanding screw connector at your end
ESP8266 ESP-07 Features:
SDIO 2.0, SPI, UART

32-pin QFN package

Integrated RF switch, balun, 24dBm PA, DCXO, and PMU

Integrated RISC processor, on-chip memory and external memory interfaces

Integrated MAC/baseband processors

Quality of Service management

I2S interface for high fidelity audio applications

On-chip low-dropout linear regulators for all internal supplies

Proprietary spurious-free clock generation architecture

Integrated WEP, TKIP, AES, and WAPI engines.
ESP8266 ESP-07 Specifications:
802.11 b/g/n

Wi-Fi Direct (P2P), soft-AP

Integrated TCP/IP protocol stack

Integrated TR switch, balun, LNA, power amplifier and matching network

Integrated PLLs, regulators, DCXO and power management units

+19.5dBm output power in 802.11b mode

Power down leakage current of <10uA

Integrated low power 32-bit CPU could be used as application processor

SDIO 1.1/2.0, SPI, UART

STBC, 1×1 MIMO, 2×1 MIMO

A-MPDU & A-MSDU aggregation & 0.4ms guard interval

Wake up and transmit packets in < 2ms

Standby power consumption of < 1.0mW (DTIM3).
Blocking Voltage to 800 V

On-State Current Rating of 12 A RMS at 25°C

Uniform Gate Trigger Currents in Three Quadrants

High Immunity to dV/dt − 1500 V/s minimum at 125°C

Minimizes Snubber Networks for Protection

Industry Standard TO-220AB Package

High Commutating dI/dt − 1.5 A/ms minimum at 125°C

Internally Isolated (2500 VRMS)

These Devices are Pb−Free and are RoHS Compliant*
AC-DC Isolated Power Supply Module:
Ultra thin,ultra small.

All voltage input (AC:90~264V).

Low ripple and low noise.

Output overload and short circuit protection.

High efficiency, high power density.

The product is designed to meet the requirements of EMC and safety test.

Low power consumption,environmental protection, no load loss>0.1W.

Dimension: 34X20mm.
Screen Shots:
Direct Aceess:
Access through Router:
Application Diagram:
Sample SDK Screenshot:
Below given sample SDK will be given along with the product.
NOTE: If you want to update your own firmware, you have to buy the below module
https://researchdesignlab.com/xbee-usb-adapter-with-ft232rl.html
Package Contains :
Documents: