WiFi - 8 Channel Relay Board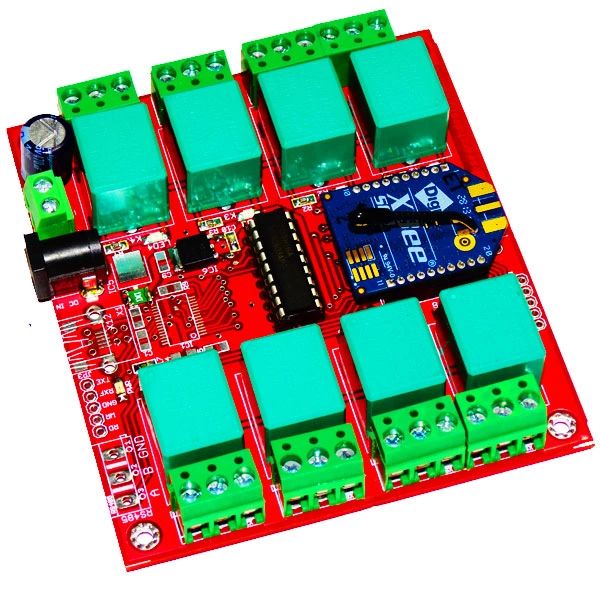 WiFi - 8 Channel Relay Board
This is Eight Channel relay board controlled through WiFi. The WiFi relay board is with 8 SPDT relays rated up to 7A each. You can control devices 230V / 120V (up to 8) directly with one such relay unit. Suitable for home automation applications, hobby projects, industrial automation.
Order Code : RDL/8RLY-WiFi/14/001/V1.0
XBee Wi-Fi embedded RF modules provide simple serial to IEEE 802.11 connectivity. By bridging the low-power/low-cost requirements of wireless device networking with the proven infrastructure of 802.11, the XBee Wi-Fi creates new wireless opportunities for energy management, process and factory automation, wireless sensor networks, intelligent asset management and more.
Features:
8 SPDT Relay channels (7A 250V,12A 120V,10A 125VAC, 10A 28VDC).

Power supply:12VDC 2AMP

Native Device Cloud integration for data acquisition and device management

Hardware and software complete module easily joins existing 802.11 b/g/n (Wi-Fi) infrastructures

Common XBee footprint allows OEMs to support a variety of wireless protocols

Available in Surface Mount and Through-Hole form factors

Support for low-power sleeping applications with <6 μA power-down current

Over-the-air data rates up to 72 Mbps

Simple provisioning methods including Soft AP and Wi-Fi Protected Setup (WPS)

Current consumption: 1A.

LED indication for relay & power supply.

Design based on highly proven IC ULN2803 as driver.

High quality PCB FR4 Grade with FPT Certified.
Android Playstore Screenshot:
SDK Screenshot:
Software Screenshot:
Package Contains :
8 Channel Relay Board + XBeeS68.
Documents: