Voice Playback and Recorder Kit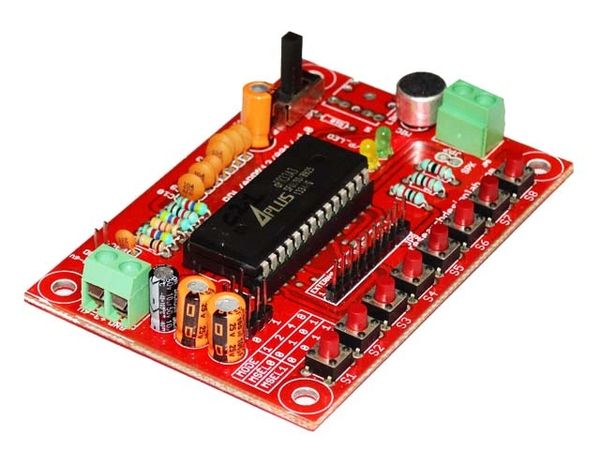 Voice Playback and Recorder Kit
It provides high quality recording and playback with 11 minutes audio at 8 Khz Sampling rate with 16 bit resolution. The aPR33A series C2.x is specially designed for simple key trigger, user can record and playback the message averagely for 1, 2, 4 or 8 voice message(s) by switch, It is suitable in simple interface or need to limit the length of single message.
Order Code : RDL/APR/13/001/V1.0
Features:
Operating Voltage :5V.

Single Chip, High Quality Audio/Voice Recording & Playback Solution.

User Friendly, Easy to Use Operation.

680 sec. Voice Recording Length in aPR33A3.

Nonvolatile Flash Memory Technology.

High quality PCB FR4 Grade with FPT Certified.
Avoid connecting smps or any ac to dc conversion voltage source.
Use 5V battery while recording.
Avoid blank space in wave file .
Its always better to record from PC or mobile speaker out jack terminal.
Recording volume level should moderate.
Use audio equalizer from PC or mobile to fine tune as per your desired output.
Always Use the shielded cable for recording.