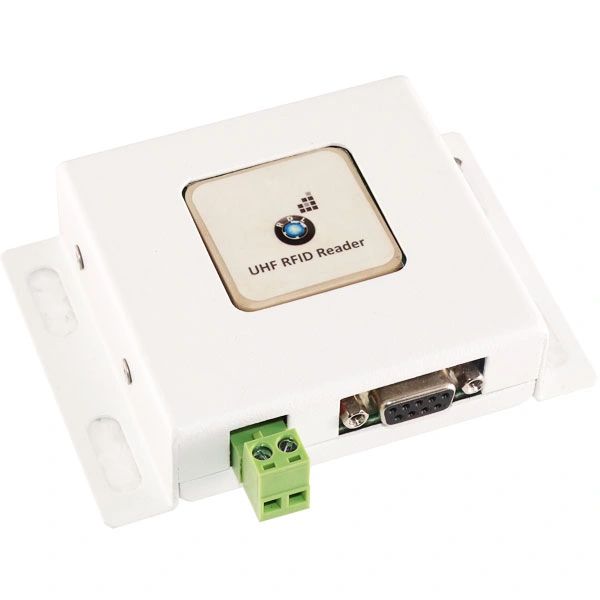 UHF RFID Reader
With UHF RFID Reader, you get constant and effort free identification, location and tracking information, effortless tracking of every product or asset, every moment of the day. It supports Multi-tags identification with more than 50pcs/sec and covers reading distance up to 100cm depending on the tag manufacturer.
ORDER CODE: RDL774

Features:
ISO 18000 – 6C, EPC Class 1 Gen 2.

Features LED and Beep sound indications.

Frequency ranges from 840 – 960MHz.

Reads 100cms of distance depending on the tag manufactures.

Reads Multi-tags.

Reading speed is more than 50pcs per second.
Benefits:

Integrated antenna character.

Solve the exothermic problem completely.

Outstanding stability.

Good consistency.

Brief and high efficient interface of hardware and software.
Applications:
Electronic ticketing.

Electronic door locks.

Automotive and transportation.

Inventory management.

Asset tracking.

Attendance & Library management.

Farm and animal tracking.

Vehicle parking and identification.

Automotive security.

Dual authentication system for software application.

Supply chain and Super Mart.

Smart conveyor.

Access Control System.

Logistics management.
Specifications:
| | |
| --- | --- |
| Order Code | RDL774 |
| Working Voltage | DC 24V |
| Operating Current | |
| Standby Current | <80Ma (En Pin High) |
| Sleeping Current | <100uA (EN Pin Low ) |
| Operating Time | <100mS |
| Operating Temperature | 20 °C - + 70 °C |
| Storage temp | 20 °C - + 85 °C |
| Working humidity | < 95% ( + 25 °C) |
| Protocol | EPC global UHF Class 1 Gen 2 / ISO 18000-6C |
| Frequency | 840 – 960 MHz |
| Output power | 18-26 dBm |
| Read/write range | Read: 200-250cm;write: 10-50cm(adjusted) |
| Output power accuracy | +/- 1dB |
| Output power flatness | +/- 0.2dB |
| Receive sensitivity | < -70dBm |
| Store tag peak speed | > 50pcs/sec |
| Tags RSSI | supported |
| Communication interface | RS232 Uart interface |
| Communication baud rate | 115200bp(default & recommend) 38400bps |
| Heat-dissipating method | Air cooling(no need for out install cooling fan) |