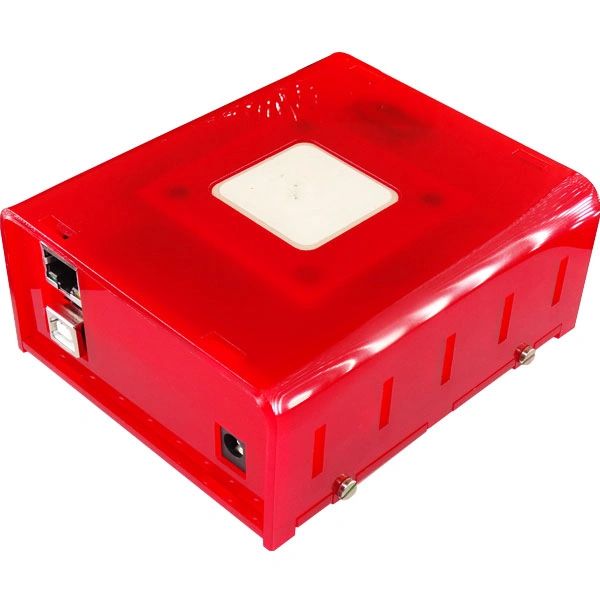 UHF RFID Reader-Ethernet
With UHF RFID Reader,you get constant and effortfree identification, location and tracking information,effortless tracking of every product or asset, every moment of the day. reading distance 1-3 meters depends on the manufacturer.Multi-tags identify, >50pcs tags.Reading distance speed, >50pcs/sec
Order Code : RDL698
Integrated antenna character:
1. Be sensitive and stable to the tags identify.
2. Stable reading distance 2-3 meters.
3. Multi-tags identify, >50pcs tags.
4. Reading distance speed, >50pcs/sec.


Solve the exothermic problem completely:
1. No need for connecting any other outer radiating device. It can work without exothermic reaction
in the normal indoor temperature.
2. Sustain electricity<200mA@ 3.5V (26 dBm Output). Pulse peak current<260mA


1. 24 hours x 365days work normally.
2. Appearance little influenced by cover, electromagnetic environment etc.
3. Wide temperature design and the temperature drift coefficient.


1.the good design in consistency.
2. Choose the top level components to keep each parameters stable and consistence.


Brief and high efficient interface of hardware and software:
1. Peripheral circuit is very easy. The signal power, no need for extra connecting tantalum
capacitor
Specifications:
Electrical parameters:
Working Voltage :DC 3.5V – 5 V
PCB size: Pcb size:50*50mm , Ceramic antenna size:40*40mm ,Overall height:8.5mm
Standby current: <80mA (EN pin high level)
Sleeping current :<100uA (EN pin low level)
Operation current :180mA@ 3.5V (26 dBm Output,25°C)。110mA@ 3.5V (18 dBm Output,25°C)。
Operating time: <100mS
Operation temp.: - 20 °C - + 70 °C
Storage temp. :- 20 °C - + 85 °C
Working humidity :< 95% ( + 25 °C)
Protocol :EPCglobal UHF Class 1 Gen 2 / ISO 18000-6C
Frequency :840-960MHZ
Output power: 18-26 dBm
Read/write range :Read: 200-250cm

;

write: 10-50cm(adjusted)

Output power accuracy: +/- 1dB
Output power flatness: +/- 0.2dB
Receive sensitivity: < -70dBm
Store tag peak speed: > 50pcs/sec
Tags storage capacity: 200pcs tags @ 96 bit EPC
Tags RSSI :support
Communication interface :TTL Uart interface

Communication baud

rate:

115200 bps

(

default and recommend

) 38400bps

Heat-dissipating method :Air cooling(no need for out install cooling fin
Applicatons:
Rfid based attendance system

Rfid based smart shopping system

Rfid based medical file tracking system

Rfid based inventory management system

Rfid based access control system -security

Rfid based library management system

Rfid based security guard monitoring system

Rfid based asset tracking system ,

Rfid based vehicle parking system

Rfid based toll gate collection system

Rfid hotel room access control system .

Rfid based product identification for blind

Rfid based blind indoor navigation system.

Rfid based dual authentication system for software application ,

Rfid based industry supply chain control system

Rfid based smart conveyor
Application Diagram: