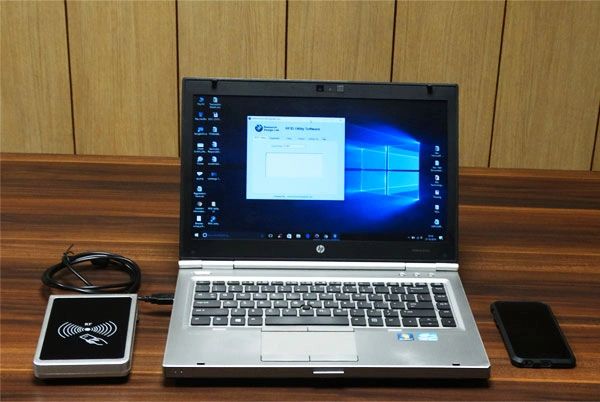 RFID Reader-USB V2
RDL's RFID Reader-USB V2 is designed for reading code from 125KHz card compatible read-only tags . It can be applied in office/home security, personal identification, access control, interactive toy and production control systems etc.Non contact RFID module, uses the advanced Radio Frequency receiving circuit and embedded MCU design, combining with an efficient decoding algorithm.
Features:
This is a low frequency (125Khz) RFID Reader With USB Output

Compact unit with built in antenna and can be directly connected to any USB host

Built-in USB interface for easy connection to your PC

9600 baud serial output stream to PC is accessible from any programming language that can open a COM port.

Powered by USB (no external power required).

Built in Antenna.

Current Requirement<120mA.

High quality PCB FR4 Grade with FPT Certified.
Applications:
Rfid based attendance system

Rfid based smart shopping system

Rfid based medical file tracking system

Rfid based inventory management system

Rfid based access control system -security

Rfid based library management system

Rfid based security guard monitoring system

Rfid based asset tracking system ,

Rfid based vehicle parking system

Rfid based toll gate collection system

Rfid hotel room access control system .

Rfid based product identification for blind

Rfid based blind indoor navigation system.

Rfid based dual authentication system for software application ,

Rfid based industry supply chain control system

Rfid based smart conveyor.
Package Contains:
RFID Reader-USB V2 + RFID Card +USB cable.