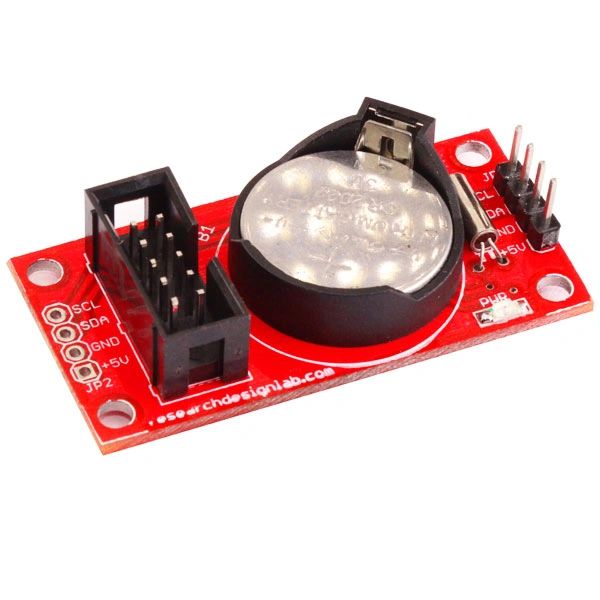 Real Time Clock
Real Time Clock based on most popular RTC IC DS1307 which can maintain clock & calendar information. Life of 3V battery is 10 years which maintains accurate clock even without any external power. The clock/calendar provides seconds, minutes, hours, day, date, month, and year information. The Interface to board is simple I2C with SCK and SDA pins which can be interfaced with any microcontroller easily.
Order Code : RDL/RTC/13/001/V1.0
Features:
Real-Time Clock (RTC) Counts Seconds, Minutes, Hours, Date of the Month, Month, Day of the week, and Year with Leap-Year Compensation Valid Up to 2100.

56-Byte, Battery-Backed, Nonvolatile (NV) RAM for Data Storage.

I2C Serial Interface

Automatic Power-Fail Detect and Switch Circuitry.

Consumes Less than 500nA in Battery Backup Mode with Oscillator Running.

3 way of connectivity, Burgestick, FRC and custom cable soldering holes.

High quality PCB FR4 Grade with FPT Certified.
Package Contains :
Real Time Clock+ CMOS Battery
Documents and Codes: