PIC Mini Development Board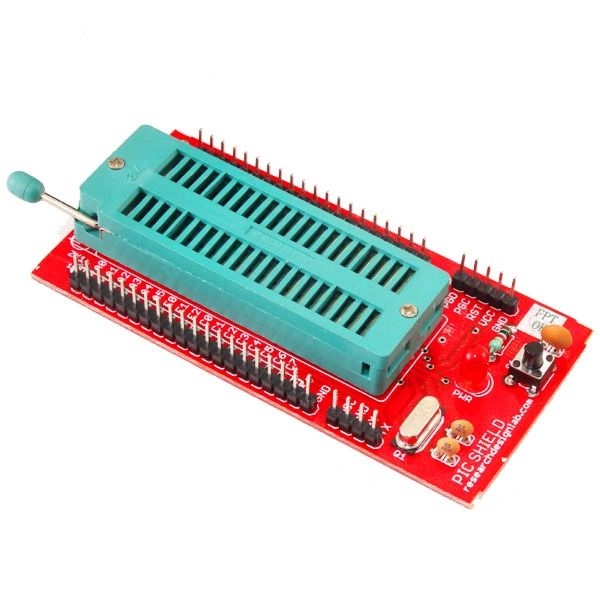 PIC Mini Development Board
PICs are popular with both industrial developers and hobbyists alike due to their low cost, wide availability, large user base, extensive collection of application notes, availability of low cost or free development tools, and serial programming (and re-programming with flash memory) capability. They are also commonly used in educational programming .
With this board you can develop and prototype with any of Microchip's 40 pin PIC microcontrollers.The board have User button and status LED.
Order Code : RDL/PICS/15/001/V1.0
Features:
PIC Development Board for Microchip PIC Series.

Quartz crystall 20Mhz.

The DIP40 locking device, easy to remove the PIC microcontroller for reuse.

External TX,RX, GND

On board programming ISP connector.

Power indicator LED.

Reset Switch for the IC.

Colour :RED

High quality PCB FR4 Grade with FPT Certified.
Supported IC:
PIC16F74 PIC16F77 PIC16F747 PIC16F777 PIC16F871 PIC16F874 PIC16F877 PIC16F877A PIC16F887
PIC18F452 PIC18F458 PIC18F4220 PIC18F4320 PIC18F4431 PIC18F4331 PIC18F4520 PIC18F4420 PIC18F4550
PIC18F4455 PIC18F4580 PIC18F4480 PIC18F4585 PIC18F4680 PIC18F4620 PIC18F45J10 PIC18F44J10 PIC18F44J10
PIC18F45K20 PIC18F43K20 PIC18F44K20 PIC18F46K20
Package Contains :
PIC Mini Development Board
Codes:
MP LAB(HI-TECH_C) Sample Codes: