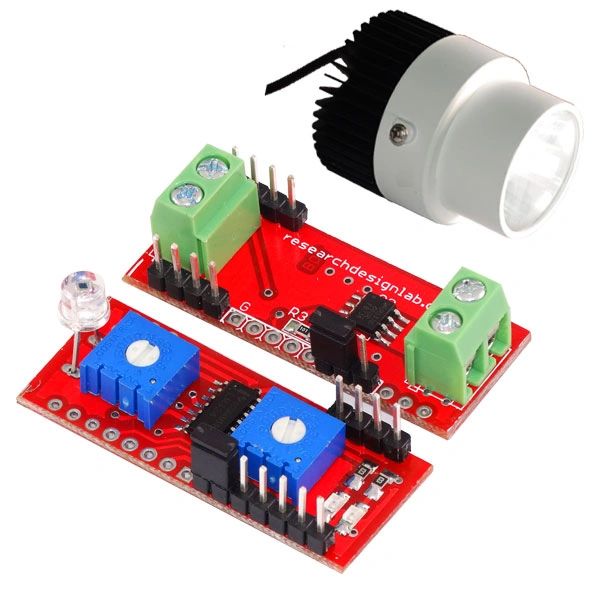 LiFi Nano V2
A very innovative technology known as 'LiFi' or 'Light Fidelity' or VLC (visible light communication), which transfer the data through light as a medium.

Features:
It can transmit data 38400 baud rate serialy.

5-15 feet distance, distance can be increased by changing the LED wattage.

High intensity LED Light.

Domestic Ceiling / wall mounting focus LED light can be used for communication.

High quality PCB FR4 Grade with FPT Certified.
Applications:
Indoor wireless open optical communication.

Indoor navigation.

Under water visible light communication.

Smart indoor blind assistive application.

Vehicle to vehicle communication.

Monitor as transmitter for Data Communication.

Preventing Phishing Attacks using One Time Password and User Machine Identification.

Super market navigation system and discount information based on location.

Smart LIFI based Car Parking system.

Smart Location Aware of Services.

Visible light positioning for asset tracking.

POSITIONING TECHNIQUES FOR ACCURATE LOCALIZATION mobile robot navigation.

Integrated, underwater optical /acoustic communications system.

Visible Light Communication Based Traffic Information Broadcasting Systems.

Li-Fi wireless optical communication.
Transmitter Connection Diagram:
Receiver Connection Diagram:
Package Contains :
Li Fi Transmitter +Li Fi Reciever + LED Light+LED Driver+FT232RL Breakout Board-2+USB Cable-2+Jumper Wires