IoT Web Shield - Smart Internet Application Development Kit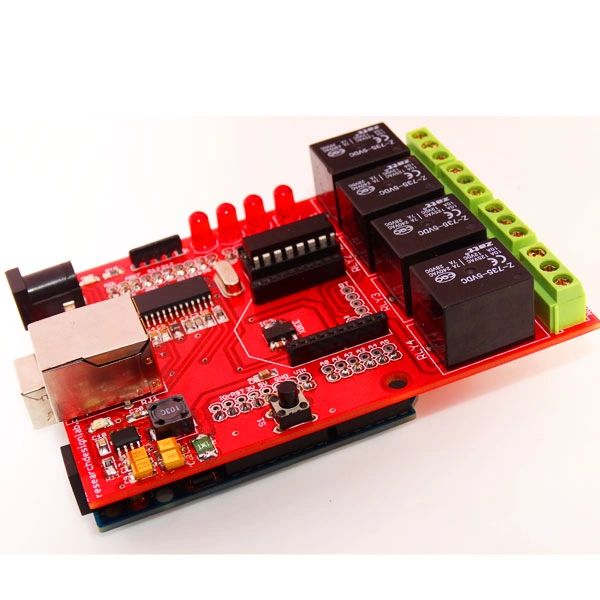 IoT Web Shield - Smart Internet Application Development Kit
The Internet of Things (IoT) is the interconnection of uniquely identifiable embedded computing devices within the existing Internet infrastructure.
Web shield is a smart communication shield for controlling and monitoring embedded application via internet.Internet is the media and economic way for communication between anywhere from to geographical location.This shield is compatible with Arduino open source and make easy way for customized application development.This shield has got four relay 10AMP.The board by ULN2003 IC. The board works on 5V.
Order Code : RDL/ERS/14/001/V1.0
Features:
IEEE 802.3 compatible.

Supports Full and Half-Duplex modes.

Integrated MAC and 10Base-T PHY

SPI Interface with Clock Speeds Up to 20 MHz.

With this Ethernet Shield, your Arduino board can be connected to internet.

Stackable by accepting prototype shield or any other boards with Arduino compatible interface.

LED indication for relay & power supply.

Design based on highly proven IC ULN2803 as driver.

DC-DC Converter.

High quality PCB FR4 Grade with FPT Certified.
I/O Connection:
Screenshots:
Open Source Remote Web Based SCADA System:
Package Contains :
IoT Web Shield + 2 pcs screw shield.
Note
: The aurdino in the picture above is just for reference , it does not include in the package.
Datasheet

( IoT Web Shield - Smart Internet Application Development Kit)

Circuit Diagram

(IoT Web Shield - Smart Internet Application Development Kit)

Code

(Arduino)