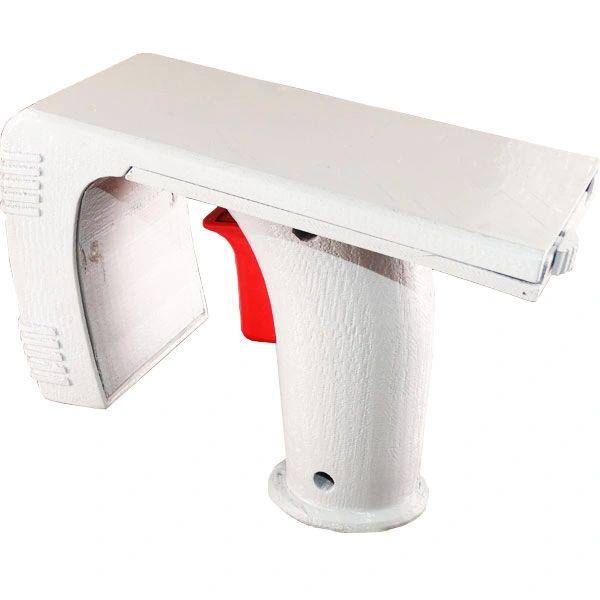 Handheld UHF RFID Reader
Handheld UHF RFID Reader is a portable device used for real time tracking and monitoring of tagged items/assets. The device can be paired with Bluetooth wireless technology enabled host (Android/IOS) using custom designed application software.

Description:
The device is enabled with the world's no.1 Impinj Indy R2000 high performance chip which is compliant with EPC C1G2 (Global Class 1 Generation 2) protocol with operating frequency of 840~960MHz. The reading distance covers 1 - 3 meters. It is suitable for logistics, retail, healthcare, complex assets management and numerous other fields.
Features:
Rugged yet compact and lightweight for ease of use.

Ergonomic design provides superior user comfort

EPC Global Class 1 Generation 2 / ISO 18000-6C.

Operating frequency of 840~960MHz.

1 - 3 meters of reading distance.

Bluetooth Connectivity Option.

LBT functionality.

Dense Reading Mode (DRM).

Inventory Speed more than 400 tags per second.

Prolonged usage capabilities with good battery pack.
Supply Chain Management

Inventory and cycle counting

Asset management.

Identity management/credentialing

Inspections and code enforcement

Toll Gates.

Replenishment.

Document and folder tracking

Patient location tracking

Pharmaceutical Industry

Library Management.

Retail and Logistics.

Maintenance and Repair.

Oil and Gas Industry.
Specification:
RF IC : Impinj Indy R2000
Protocol :EPC Class 1 Gen 2 / ISO 18000-6C
Reading Distance :1 - 3 meters
Inventory Speed: >400 tags/sec
DC Power: 3.6V – 5.5V
Fixed Current: 1.5A
Standby Current: ≤ 1 mA
Frequency range :840~960 MHz
Channel bandwidth: ≤250 KHz
Communication protocol :Asynchronous serial ports protocol
Starting time: ≤ 50 ms
Radio-frequency power rising time :≤500 μs
Radio-frequency power dropping time :≤500 μs
5 Frequency stabilizing ratio: ±20 ppm
Working temperature: -20 ~ +70 degree C
Storage temperature: -40 ~ +85 degree C
Relative humidity 10% ~ 90% RH
Dimension (LXWXH) :150 x 155 x 155 mm.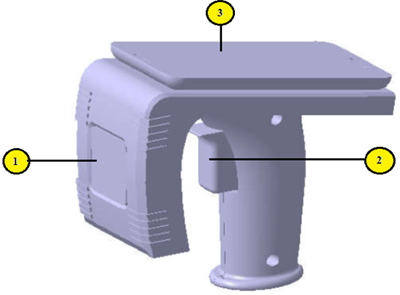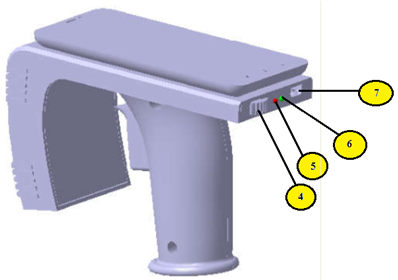 1. RFID Antenna
2. Trigger Button
3. Phone
4. Power Switch
5. Power indicator
6. Scanning Indicator
7. USB Connector for charging only.