GSM GPRS SIM800C Modem- Arduino Compatible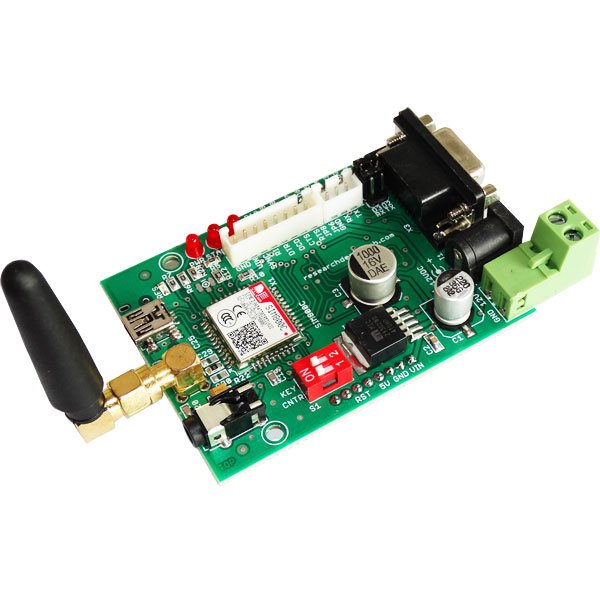 GSM GPRS SIM800C Modem- Arduino Compatible
This is a very low cost and simple Arduino GSM and GPRS shield. We use the module SIM800C Modem.

The Shield connects your Arduino to the internet using the GPRS wireless network. Just plug this module onto your Arduino board, plug in a SIM card from an operator offering GPRS coverage and follow a few simple instructions to start controlling your world through the internet. You can also make/receive voice calls (you will need an external speaker and microphone circuit) and send/receive SMS messages.
Features:
Quad-Band 850/900/1800/1900MHz

TTL data(RX,TX,GND).

ESD Compliance.

Enable with Audio jack.

SMA connector with GSM Antenna

SIM Card holder.

Stacking Support Both Arduino UNO and Mega

Buck DC to DC MIC29302 power supply

Hard and soft UART selection Enabled with jumper setting

Configurable baud rate

Inbuilt Powerful TCP/IP protocol stack for internet data transfer over GPRS.

Power requirements : It is recommended that your Arduino board be powered with an external power supply.
Package Includes: GSM Modem Shield.

High quality PCB FR4 Grade with FPT Certified.
Applications:
Industrial automation.

GPRS based data logging.

GPRS and GPS application.

Home automation.

Health monitoring.

Agriculture automation.

Vehicle tracking.

Remote monitoring and controlling.

GPRS based Weather report logging.

GSM GPRS based Security alert.

GPRS based remote terminal for file transfer.

IVRS.

Bulksms sending.
SIM800C General features

Q

uad-band 850/900/1800/1900MHz

GPRS multi-slot class 12/10

GPRS mobile station class B

Compliant to GSM phase 2/2+: Class 4 (2 W @ 850/900MHz)
Class 1 (1 W @ 1800/1900MHz)
Dimensions: 17.6*15.7*2.3mm

Weight: 1.3g

Control via AT commands: (3GPP TS 27.007, 27.005 and SIMCom enhanced AT Commands)

Supply voltage range 3.4 ~ 4.4V

Low power consumption

Operation temperature:-40℃ ~85℃.
Specifications for GPRS Data
GPRS class 12: max. 85.6 kbps (downlink/uplink)

PBCCH support

Coding schemes CS 1, 2, 3, 4

PPP-stack

USSD.
Specifications for SMS via GSM/GPRS
Point to point MO and MT

SMS cell broadcast

Text and PDU mode.
Software features
0710 MUX protocol

Embedded TCP/UDP protocol

FTP/HTTP

MMS

POP3/SMTP

DTMF

Jamming Detection

Audio Record

SSL

Bluetooth 3.0(optional).
Specifications for voice

Tricodec: Half rate (HR), Full rate (FR),Enhanced Full rate (EFR)
AMR: Half rate (HR),Full rate (FR)
Hands-free operation (Echo suppression).
Interfaces:
42 SMT pins including

Analog audio interface

RTC backup

USB interface

Serial interface

Interface to external SIM 3V/1.8V

GPIO

ADC

GSM Antenna pad

Bluetooth Antenna pad.
Compatibility:
AT cellular command interface.
Certifications
CE,FCC,GCF,TA,ROHS,REACH,CTA,CCC