GSM GPRS M95 QUECTEL Modem with Stub Antenna and SMA Connector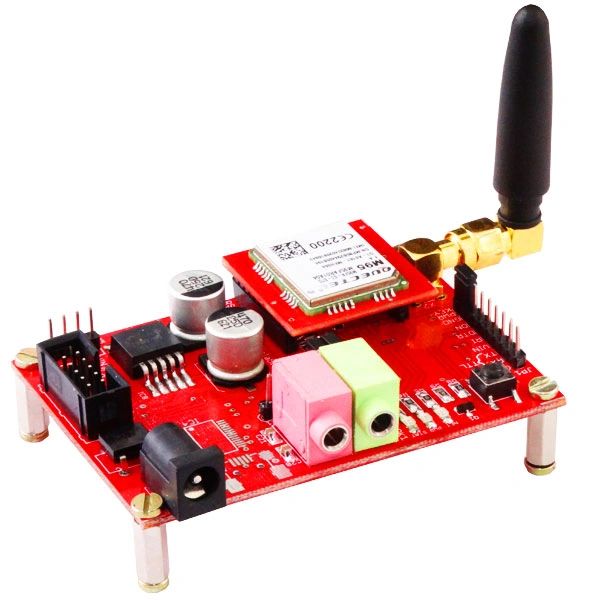 GSM GPRS M95 QUECTEL Modem with Stub Antenna and SMA Connector
GSM GPRS M95 QUECTEL Modem-RS232 is built with Quad-Band GSM GPRS engine-M95, works on frequencies 850/900/1800/1900MHz. The Modem is coming with RS232 interface, which allows you connect PC as well as microcontroller with RS232 Chip(MAX232). The baud rate is configurable from 9600-115200 through AT command. The GSM GPRS Modem is having internal TCP/IP stack to enable you to connect with internet via GPRS. It is suitable for SMS, Voice as well as DATA transfer application in M2M interface. The onboard Regulated Power supply allows you to connect wide range unregulated power supply . Using this modem,you can make audio calls, SMS, Read SMS, attend the incoming calls and internet ect through simple AT commands.
ORDER CODE: RDL679
Features:
Quad-Band 850/900/1800/1900MHz

RS232 interface for direct communication with computer or MCU kit

Configurable baud rate

Power controlled using 29302WU IC.

ESD Compliance.

Enable with MIC and SPeaker socket.

With slid in SIM card tray.

With Stub antenna and SMA connector

Input Voltage: 12V DC.

High quality PCB FR4 Grade with FPT Certified.
M95 Key benefits
One of the smallest Quad-band GSM/ GPRS modules

Easier soldering process with LCC package

Embedded Class-AB amplifier

Power consumption as low as 1.3mA

Embedded powerful Internet service protocols, multiple Sockets & IP addresses

eCall / ERA-GLONASS (Supported in specific firmware)

QuecFOTATM

Jamming detection

DTMF decoding.
Industrial automation.

GPRS based data logging.

GPRS and GPS application.

Home automation.

Health monitoring.

Agriculture automation.

Vehicle tracking.

Remote monitoring and controlling.

GPRS based Weather report logging.

GSM GPRS based Security alert.

GPRS based remote terminal for file transfer.

IVRS.

Bulksms sending.
1. Power ON reset switch.
2. Sliding SIM holder.
3. Network,Power and Status indicator.
4. MIC and Speaker Socket.
5. Power supply 12V/2A
6. FRC Connector.
7. RS232 header.
8. DC to DC Converter (29302WU IC).
9. ESD Protection enabled.
10. M95 QUECTEL stack on header.
11. Stub antenna with SMA connector.
12.General GPIO SIM900A
M95 General Features

Quad-band

850/ 900/ 1800/ 1900MHz

GPRS Multi-slot Class

12, 1~12 configurable

GPRS Mobile Station

Class B

Compliant to GSM Phase 2/2+

Class 4 (2W @ 850/ 900 MHz)
Class 1(1W @ 1800/1900MHz)

Supply Voltage Range

3.3~4.6V 4.0V nominal

Low Power Consumption

1.3mA @ DRX=5
1.2mA @ DRX=9

Operation Temperature

-40 °C to +85 °C

Dimensions

19.9 × 23.6 × 2.65mm

Weight

Approx. 3.0g

Control via AT commands

GSM 07.07 ,07.05 and other enhanced AT Commands
M95 Specifications for Data

GPRS Class 12

Max. 85.6kbps (uplink & downlink)

PBCCH Support

Coding Schemes

CS 1, 2, 3, 4

USSD

Non Transparent Mode

Protocols

PPP/ TCP/ UDP/ HTTP/ FTP/ SMTP/ SSL
M95 Specifications for SMS via GSM /GPRS

Point-to-point MO and MT

SMS Cell Broadcast

Text and PDU Mode
M95 Specifications for Voice

Speech Codec Modes
Half Rate (HR)
Full Rate (FR)
Enhanced Full Rate (EFR)
Adaptive Multi-Rate (AMR)

Echo Arithmetic
Echo Cancellation
Echo Suppression
Noise Reduction
M95 Interfaces

SIM/ USIM

3V/ 1.8V

UART

2 Interfaces

Analog Audio Chanel

2 Embedded Class-AB amplifier in one channel

PCM

RTC Backup

Antenna Pad

M95 Certifications

CE/ FCC/ GCF/ PTCRB/ NCC/ ANATEL/ IC/ ICASA/ UCRF/ RCM/ Vodafone
Documents: