DIN Rail Opto Isolated Relay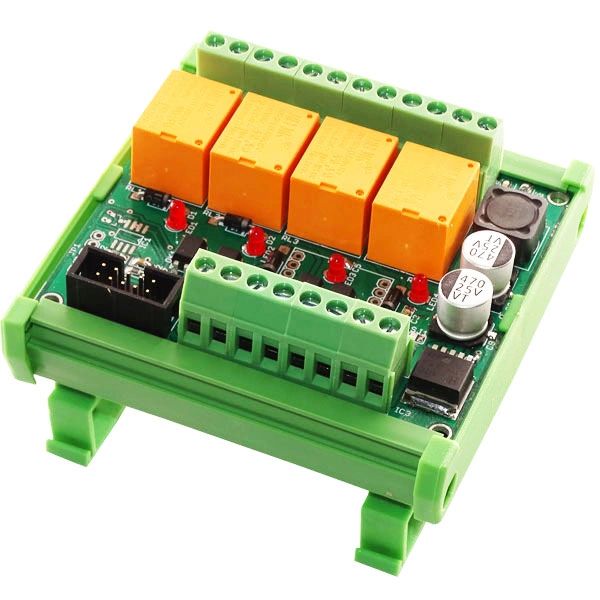 DIN Rail Opto Isolated Relay
Control anything anywhere any time. Save power. Eliminate service calls. Switch routers, servers, lighting, even industrial machinery via the web and App. Customize the web server with your own using RDL IoT SDK. Each relay can switch AC or DC high voltage, high current loads working at 110V or 220V AC mains like lights, fans, motors and any electrical equipment.
Features:

Four high quality SPDT relays

LED indication for relay & power supply.

Direct input 5V microcontroller for relay control.

7A-10A current capability.


AC or DC Operating Voltages.

No Leakage Current.

Eliminates costly isolation relays and wiring.

Screw terminal block.

High quality PCB.

More protective, with current feedback diode protection.

Safe and durable, stable performance.

On board DC-DC converter.

DIN Rail compatible.


Each relay is equipped with a set of normally open and normally closed.
TIL197 Description:
The TIL197 series of optically coupled isolators consist of infrared light emitting diodes and NPN silicon photo darlingtons in space efficient dual in line plastic packages. The standard parts are tested for a CTR of 500% minimum. Parts with the suffix A or B are tested for a CTR of 1000 and 1500% minimum respectively.

10mm lead spread - add G after part no.
Surface mount - add SM after part no.
Tape&reel - add SMT&R after part no.
High Current Transfer Ratio (500%min)

High Isolation Voltage (5.3kVRMS,7.5kVPK)

All electrical parameters 100% tested

Custom electrical selections available
Computer terminals

Industrial systems controllers

Measuring instruments

Signal transmission between systems of different potentials and impedances