ARM Development Board-LPC2148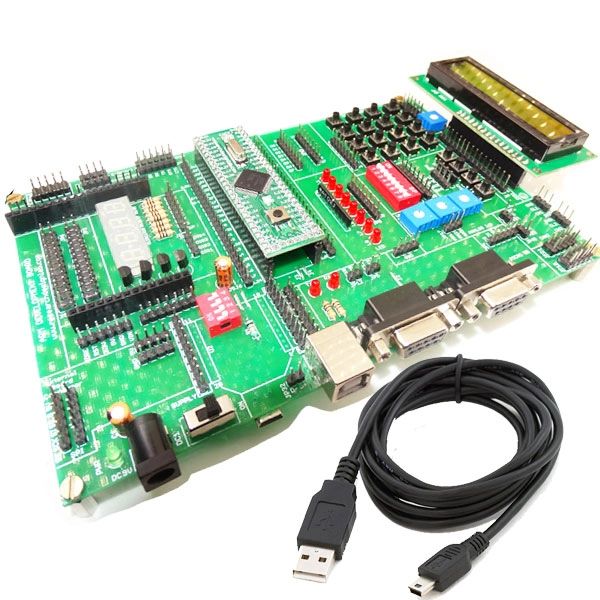 ARM Development Board-LPC2148
LPC2148 is a single-chip 32-bit RISC Microcontroller with 512KB on-chip Flash ROM with In-System Programming (ISP) and In-Application Programming (IAP) 32KB RAM having Interrupt Controller, Two 10bit ADCs with 14 channels, USB 2.0 Full Speed Device Controller, Two UARTs, one with full modem interface. Two I2C serial interfaces, Two SPI serial interfaces Two 32-bit timers, Watchdog Timer, PWM unit, Real Time Clock with optional battery backup, Brown out detect circuit General purpose I/O pins. CPU clock up to 60 MHz, On-chip crystal oscillator and On-chip PLL.
Order Code : RDL/LPB-48/14/001/V1.0
Features:
High quality ARM development board.

Power supply, 9V-12V

52 pin Female burg connector for various Arm controller mount.

I2C bus.

USB-FT232 Driver.

Node connectors

4x1 7 segment display

Raspberry Pi expansion connectors.

Stackable Arduino shields.

ON/OFF slide switch.

SPI bus

DC 3.3V connectors

DC 5V connectors

2- DB-9 (serial) female connector.

External jumper nodes.

The MAX232 chip RS232 communication.

All IO ports pin have extraction and clearly marked.

On Board Power supply 3.3V,5V,GND.

On board ISP Programmer.

8x1 LED's

8 way DIP switch

Micro SD memory card slot

6 Channel 5V to 3.3V Bi-directional level converter

3 Analog potentiometer.

4x1 keypad.

Reset button.

16x2 LCD connectors

4x4 Matrix Keypad

Power plug-in DC Socket.

Test led for Tx, Rx.

Power ON switch.

All IO's are connected by brug stripps for easy connection.

High quality PCB FR4 Grade with FPT Certified.
1. Power supply, 5V-9V
2. Power ON switch
3. USB Programming port **
4. DC 3.3V connectors
5. ARM in built USB port
6. DB-9 serial female connector-1
7. DB-9 serial female connector-2
8. Micro SD memory card connector **
9. Node connector
10. Variable resistor POT
11. CAN bus*
12. 4x1 Keypad
13. 16x2 LCD connectors
14. Node connector
15. 4x4 Keypad matrix
16. 8 way DIP switch
17. Bi-Directional Voltage Level Converter (3.3V-5V)
18. 8x1 LED's
19. 52 Pin female header for mounting different ARM processors
20. ARM LPC 2148
21. USB to TTL FT232 external connector
22. 4x1 7 Segment display
23. External I2C bus connector
24. Node connectors
25. Stackable header for Arduino Shields.
26. 26 pin raspberry connector.
27. Program/Run Mode selector
28. External SPI bus connector
*Optional
** SD card holder and mini USB port are placed at the bottom of the PCB.
Stackable Arduino shields:
Package Contains :
ARM Development Board + LCD + Mini USB Cable