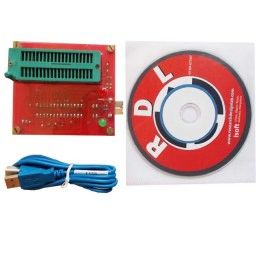 8051 Programmer - USB
This programmer is based on USBasp design and connects to your computer's USB port. Not only is it quite compact, but the design is really elegent. The USB interface is achieved by using an atmega processor and the rest is done in firmware.8051 USB programmer supports 7 Atmel 8051 microcontrollers. It is a reliable tool for fast programming of 8051 devices.
Order Code : RDL/ATB/13/001/V1.0
Features:
Works under Windows platform are tested.
No special controllers or smd components are needed.
Programming speed is up to 5kBytes/sec.
SCK option to support targets with low clock speed (< 1,5MHz).

You can program the following 89 series chips by using this programmer:

AT89S51, AT89S52, AT89S53, AT89S8252, AT89S8253, AT89S2051, AT89S4051.

High quality PCB FR4 Grade with FPT Certified.