8 Channel Analog Data Logger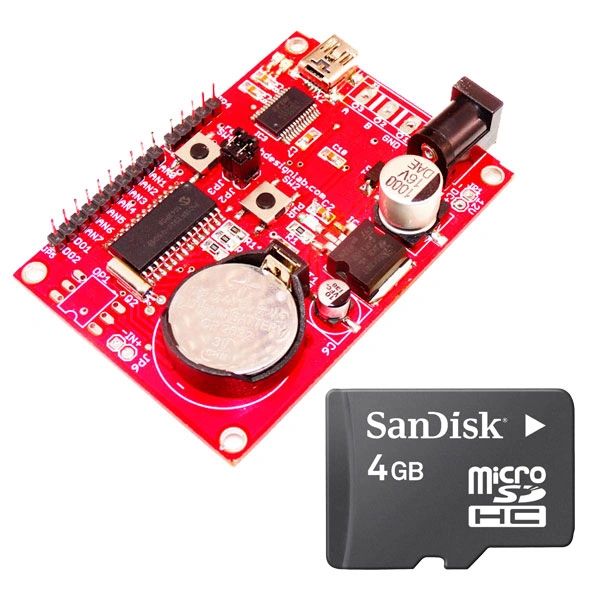 8 Channel Analog Data Logger
One of the primary benefits of using data loggers is the ability to automatically collect data on a 24-hour basis. Upon activation, data loggers are typically deployed and left unattended to measure and record information for the duration of the monitoring period. This allows for a comprehensive, accurate picture of the environmental conditions being monitored, such as air temperature and relative humidity,production quantity monitoring,boiler temeperature,fuel level,energy consumption etc.
Order Code : RDL/DLP/14/001/V1.0
Can be used for saving data to files on any FAT formatted SD card, to be read by any plotting, spreadsheet or analysis program.This datalogger is stand alone configurable timestamp for sec,min,hourly also you can configure the threshold limit for any one channel, when it crosses the threshold limit it will activate the output.This output can be connected to any external driving interface (Relay,valve etc) you can also configure for real time monitoring.
8+1 Channel (8 Channel Analog input Vdc (0-5V)).

1 output channel triggering the external realy or valve when it crosses the set threshold limit.

RTC DS1307 with inbuilt battery enable

On board SD card socket.

Support upto 4 GB FAT .

Standard FT232 usb intrface for real time monit$oring and configuring.

Logged data will be store in .CSV format.

Power supply 5V.

8 channel analog input Volatge range 0-5V.

Easy timestamp configuration(sec,min,hr).

High quality PCB FR4 Grade with FPT Certified.
SCHEMATIC:
CONNECTION DIAGRAM:
SERIAL WINDOW:
DATALOGGER UTILITY SOFTWARE:
Package Contains :
8 Channel Analog Data Logger +CMOS cell+ 4GB SD Card