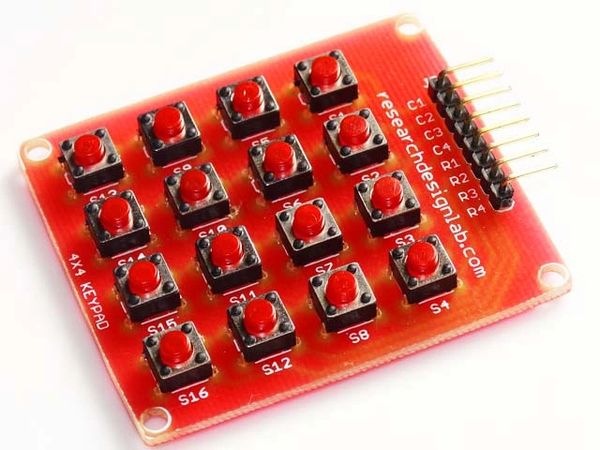 4x4 Matrix Keypad
A 4x4 matrix keypad requiring eight Input/Output ports for interfacing is used as an example. Rows are connected to Peripheral Input/Output (PIO) pins configured as output. Columns are connected to PIO pins configured as input with interrupts. In this configuration, four pull-up resistors must be added in order to apply a high level on the corresponding input pins.
Note: The color of the PCB may vary. However the circuit/pinout of the PCB will remain same.
Order Code : RDL/4X4KP/13/001/V2.0
Features:
Contact debouncing.

Easy to interface. Board features 16 push buttons arranged as 4x4 matrix.

Data Valid output signal for interrupt activation.

Interfaces to any microcontroller or microprocessor.

Cost effective for OEM applications.

Key lifetime: 1 x 109million operations.

Low power consumption.

High quality PCB FR4 Grade with FPT Certified.